LOcHER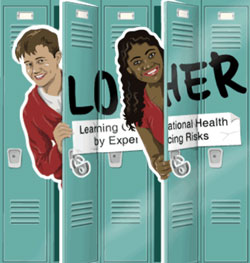 Safety Groups UK introduces a new occupational health awareness initiative for Young People.
The Health and Safety Executive (HSE) and others in the UK, including Safety Groups UK (SGUK) have been actively working in recent years to raise awareness that the number of people suffering from work related illness is considerable: approximately 1.2 million people in the last year. A substantial number of these cases are long latency work-related diseases. Many of these cases can lead to premature deaths and unnecessary suffering, but can be simply prevented.
What is LOcHER?
Learning Occupational Health by Experiencing Risk (LOcHER) is an interactive approach to engage students and help them learn about managing health risks and protecting their health in the workplace.
Who is it aimed at?
LOcHER is aimed at students undertaking vocational courses and who are about to enter the world of work for the first time. Improving young people's awareness of the damaging effects of exposure to harmful substances in the workplace to prevent exposure at an early stage in their careers is an important step in helping to reduce long term harm to their health.
Why this approach?
This approach is a way to engage young people and can be used to fulfil the requirement to develop "Learners Functions Skills" as students contributing to the LOcHER project will help develop a number of transferable skills, such as problem solving and team working.
Key elements:
Learning by doing
Uses practical risk control solutions
Helps to implant health risk messages in the long term memory of the learners
Whilst 'Health Risks at Work –Do you know yours?', SGUK's main long term campaign in partnership with HSE, SCHWL and supported by RoSPA, aims to raise awareness of major occupational health issues with workers, there is now a new initiative in development which plans to raise awareness among young people before they reach the workplace. SGUK assisted by HSE and other supporters including – SCHWL, IIRSM BSIF, ILEVE, Chambers of Commerce, SafetyMARK and IBIS Solutions Ltd is developing the "Learning Occupational health by Experiencing Risks" (LOcHER) project which targets young people, in innovative ways, before they enter workplaces and aims to equip them to recognise the dangers to their health from exposure to hazardous substances and what they could do to minimise the risks.
Industries such as engineering, motor vehicle maintenance, stone/wood working, and welding/fabrication use and/ or create hazardous substances. These are known to contribute to significant numbers of new cases of short-term as well as long latency work-related diseases. As a result, these are priority areas for the HSE. Young people entering these industries are potentially at risk of exposure to excessive amounts of hazardous substances. The contributing factors include inexperience of risks, their mitigation requirements, as well as the potential for the lack of consistent behavioural approaches over many years. The LOcHER project team is targeting three priority areas from these industries: motor vehicle repair, wood working and welding through three pilot schemes, working with college staff and students.
The team recognised that to maximise impact of the project, the outputs needed to be innovative, inspiring, informative and appealing to young people. In aspiring to meet these challenges, they researched the key aspects associated with young learners' approaches to learning, emotional needs, communication preferences and how to nudge behavioural changes without legislation and enforcement. As a result of their research the team has based the project on the following principles:
Young learners should prepare the behavioural modification and risk mitigation messages for their peers. To encourage other young learners to learn and construct their own ways for learning and reinforcement
Information should enable the learning of risk control messages by experiencing risks and their controls
Information should build on learners' existing knowledge as well as new knowledge and understanding of concepts
Experiments and experiencing of the simulated risks should not place the young learners in harm's way
The first pilot took place at South Essex College (SEC) with the co-operation of key staff members and some students on the motor vehicle accident repair course. They were provided with the following draft resources:
Basic information on "working with two-pack isocyanate paints", including what to do to prevent exposure to isocyanates
An incomplete example of a potential poster to cover hazard, risks and exposure control
Examples of experiments to experience simulated risks
Reference to supporting HSE web resources
Students were asked to come up with their own ideas and design the communication materials for promoting the information to colleges providing motor vehicle maintenance courses in the UK. The group of nine students created eight highly visual posters, which have been evaluated by other SEC students.
www.southessex.ac.uk/article/students-lead-way-health-and-safety-project.
Two further pilots are now being completed with Newport College focussing on welding and Preston College covering wood working.
A preview of the project was presented at the Australian Institute of Occupational Hygienists in December 2015. The project was launched nationwide in the UK at Safety and Health Expo, London in June, 2016.
AUTUMN 2016 - UPDATE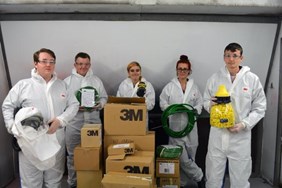 Safety Boost for Motor Vehicle Students - South Essex College